Words by the protagonists
Here we are with the words by the protagonists of the first Super-G, won by Norwegian Aleksander Aamodt Kilde.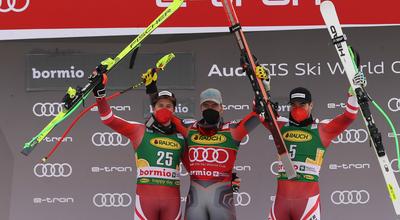 ALEKSANDER AAMODT KILDE
Three victories in a row. What should I say, it's quite unbelievable. Now I have four victories before new year, three in Super-G. Things are running pretty smooth, I managed to find a good intensity and also understand that what I'm doing is enough and not try to overdue it. It's a very good feeling, I just need to keep going, enjoy skiing and racing. That's my life and I love it.
About being back from injuries.
I've always wanted to achieve victories and good results and this is what I kept in mind while doing sets of squats. I tried to keep in mind that everything is possible. I've seen it before, people come back strong and I wanted to be one of those guys.

RAPHAEL HAASER
First podium is special and I'm really happy with today's skiing. Stelvio isn't the easiest track of the circus so I'm even happier, I tried to work on myself in the flat sections so to be faster there.

VINCENT KRIECHMAYR
I skied really well, made stupid mistake on top of the race but then I made a good run. Aleksander is one of the best skiers in the World Cup, it's nice to watch him. People like him, Beat Feuz or Matthias Mayer are the best coaches, you can see them skiing and you learn from them, to be fast. I will analyse today's performance and hope I can see why I lost so much time and do better tomorrow.

MATTIA CASSE
I'm used to bib number 1 and I must say that I like to start first. I did a few mistakes, I got to San Pietro jump quite slow and I made a mistake there but I am quite satisfied. Tomorrow I'll try to do much better, to avoid mistakes and get a better result. The track is beautiful, a super Stelvio, we finally feel at home here.

CHRISTOF INNERHOFER
Feelings today are much better than those of yesterday and this gave me the possibility to ski better. I alternated a good performance and moments I felt unsure, but I'm happy I always had fun and felt good, so the result was better than yesterday. Tomorrow I expect a better race, I am more confident, my smile is back. Yesterday I made an honest analysis and, in my opinion, I've found the right solutions…