THE AUSTRIAN MAYER WINS ONE OF THE MOST EXCITING RACES AT STELVIO.
A huge Paris is 4th, +0.16 from another victory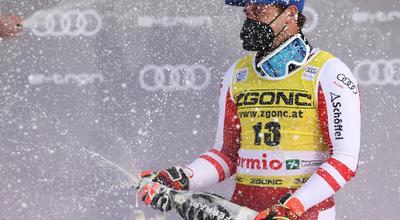 The Austrian skier Matthias Mayer has finally tamed Stelvio and written his name in the hall of fame of one of the most beautiful and difficult DH races in the world. After the 2nd place he got in 2018 in Super-G and a 3rd place in last year's DH (behind Paris and Feuz) Mayer conquered it all thanks to a sensational race on a perfect Stelvio, carefully prepared by the organizers and which gave everyone the opportunity to express themselves the best way. Bib 13, the 33 year old athlete of the "flying eagles", was one of the favourites after the two third places he got in the two official trainings on Saturday and Sunday. He got at the finish line with a time of 1'57"32, just -0.04 ahead of team-mate Vincent Kriechmayr and -0.06 ahead of Swiss racer Urs Kryenbuehl - Urs being very close to becoming the very surprise of the day.
Mayer was fantastic but the "king" of Stelvio - Dominik Paris - and his fourth place (only +0.13) almost grabbed another victory here on his favorite track, proving that he is now back at the highest levels and ready to fight for the World Cup. Very good news for the Azzurri team: Christof Innerhofer, 11th place (just +0.63 behind of Mayer) and Matteo Marsaglia, 15th place (+1"20). Today's DH race was one of the hardest fought ever, with the first 3 in just 0.06, the first 5 in 0.28 and 13 athletes in a second. Swiss Mauro Caviezel, Aleksander Aamodt Kilde, and the American Ryan Cochran Siegle are off the podium. The winner of yesterday's Super-G, without the two mistakes made at the top and final part of the race, would have probably got another victory. The top ten involves Frenchmen Matthieu Bailet and Joahan Clarey and Swiss Beat Feuz.