WORDS BY THE PROTAGONISTS OF THE SUPER-G IN BORMIO
A lot of enthusiasm and satisfaction for the three athletes on today's Super-G podium in Bormio.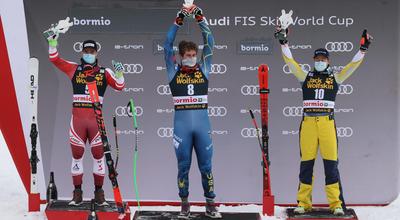 A lot of enthusiasm and satisfaction for the three athletes on today's Super-G podium in Bormio. Of course, the happiest is the stars and stripes American guy Ryan Cochran-Siegle, first World Cup victory, but the Austrian Vincent Kriechmayr and the Norwegian Adrian Smiseth Sejersted had reasons to smile too.
Cochran-Siegle
I skied well, I have a good approach. In the middle section I definitely skied with a good line. Will try to ski well tomorrow too. The speed that I gained from there, I kept it to the finish and had a big gap.
…What has changed? Lot of years of hard working on my skiing and working on that focus, trying to find the mental approach. Having success in Gardena, I feel I can trust myself now, trust to let things flow and ski with some smooth skiing. This is definitely a good place to be right now.
…The past couple of years I've been skiing with our speed team both in Copper and South America. That has progressively led to being competitive. I have to shout out the team, the service man and everyone who's helped me getting to this point. It's a team effort.
Vincent Kriechmayr
My run was pretty good…I'm slower…my race was now bad but Ryan in an incredible shape so, congrats to him.
He won definitely the race in the middle part, it was very nice to watch him, not for me because I was leader at that moment, it looks very easy when he skis down. For me and the other guys it was very bumpy and for him it was very soft. He's also the favorite for tomorrow, it's not easy to beat this guy at the moment. I'll do my best and see what happens tomorrow.
…Every podium is important but my first races haven't been that good. This place is good for me and let's see what happens in January. Really important races are coming and I hope for the best.
…The course was in a good shape. It's not easy for the people here, much snow but they did a good job. We'll see what happens tomorrow, I think it's getting really bumpy.
Adrian Smiseth Sejersted
It's a fantastic moment. You never know in super-G, with the fast guys coming from behind.
I would have never imagined to be on the podium this season.
I know I'm pretty good with speed but I have always made some mistakes here and there and there are a couple of guys who reach the top speed and are more stable.
I can't do more than just go for the 100% and when I make no mistakes I'm among the fastest. That's cool.
..Cochrane is a great skier, amazing with his speed skills. He's the favorite for tomorrow too, maybe Kilde is the man with the opportunity to beat him.
Domme Paris
The course was beautiful, I say congrats to the LOC after Monday's snowfall. My performance was not that good ... I still can't find the necessary fluidity to achieve important results. I won't ask for anything to 2021, I take what comes. I hope things will be better for everyone in 2021, from all points of view. I try to work hard every day to feel confidence in myself. Now I concentrate on the DH race, with the aim of doing a little better.
Chrisatof Innerhofer
It's been a disaster from the third gate on, what a bad feeling. I couldn't find supports and connections. Zero sensations, very bad. I struggled to keep standing, to face the gates...I have never had such bad feelings in fifteen years. This is not skiing, this is fighting to get to the end, I couldn't even properly face the wall. Tomorrow is another discipline, the curves will be less ... I think I need to do a lot of giant slalom training. This summer we skied a lot with the team, we did a job that perhaps we had never done and I want to thank the staff for that. But now I have to fix something that is wrong.