US RACER COCHRAN-SIEGLE DOMINATES SUPER-G IN BORMIO
What an impressive race for US man Ryan Cochran-Siegle.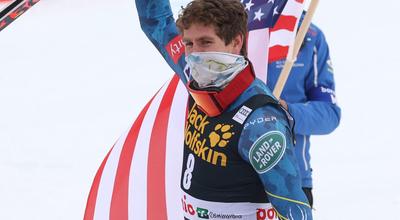 What an impressive race for US guy Ryan Cochran-Siegle who interpreted every inch of Stelvio to perfection, especially the central part where he was very fast, much more than the other guys on course. This is his first World Cup victory. After dominating the two DH trainings, proving to have a special feeling with Stelvio, Cochran-Siegle managed to show a great performance in this morning's Super-G. He's on top of the podium, followed by Austrian Vincent Kriechmayr, (+0.79), and Norwegian Adrian Smiseth Sejersted, (+0.94). The others are all behind with a gap of more than one second, starting with two of the favorites, Norwegian Aleksander Aamodt Kilde with his honorable 4th place (+1"18), and Swiss Mauro Caviezel (5th place, 1"36).

The notes of "The Star-Spangled Banner", the American anthem, are back on Stelvio 13 years after December 2007, when the great Bode Miller won the DH race. After the 2nd place in Val Gardena, Cochran-Siegle proved to be in a great state of grace and tomorrow he will be one of the men to beat, that's for sure. Italy is doing well to the 28-year-old racer born in Vermont, who won two gold medals at the 2012 Junior World Championships (DH and combined) in Roccaraso.
It's a bad day for the Italians. Dominik Paris struggled a lot and after 5 consecutive victories in recent years (4 DHs and 1 Super-G), he abdicated, with a mediocre 18th place (+2"02). All Azzurri struggled a bit: Marsaglia 26th, Buzzi 30th, Innerhofer 31st, Zazzi 36th and Schieder 44th.
Tomorrow's DH race is scheduled in Bormio, it's gonna start at 11.30 and closes the two-days World Cup in Alta Valtellina.