ONLY THE CHAMPIONS WIN AT STELVIO - MARKUS WALDNER PRAISES BORMIO
The hall of fame features the DH Gotha of the last 30 years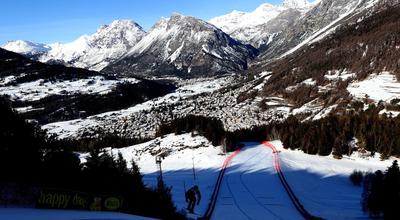 The jet-men will fight in tomorrow's DH race on the Stelvio, starting at 11.30 am. The favourite one is the American Cochran-Siegle, first place of today's SuperG and bib number 7. Swiss Mauro Caviezel bib 3, Aleksander Aamodt Kilde bib 5, Beat Feuz bib 9, Kriechmayr bib 11. Christof Innerhofer bib 8, Dominik Paris bib 15, Matteo Marsaglia bib 29, Emanuele Buzzi bib 32, Davide Cazzaniga bib 38 and Pietro Zazzi bib 51.

At the end of the last captains' meeting, Markus Waldner (FIS Chief Race Director) praised the Bormio LOC, in particular for for what hotels is concerned as they opened their doors only for the occasion of the event so that it could take place regularly. "An applause - said Waldner - to Bormio and to the LOC as they have worked at their best in recent days for the success of the event. Another applause to hotels and shops and, in particular, to the owners of those businesses that in such difficult moment characterized by almost total closures, opened for these World Cup days only. Thank you, from everyone of us".
Stelvio slope was born in 1985 to host the Alpine Ski World Championships and is now among the great classics of the World Cup circuit. It's one of the most difficult tracks of it, it excites the strongest and most complete racers, those who dare push in the right places and are able to tame a very tough and varied track.
Along the 3250 meters long track, the DH racer fights to breathe and is forced to keep high concentration from the start to the finish line, without any distraction. Stelvio doesn't forgive. It all started back in 1985, when Swiss legend Pirmin Zurbriggen dominated the World Championships' DH race. Stelvio had its World Cup debut in 1993, with the victory by Austrian Hannes Trinkl. At the end of '90s, French Luc Alphand dominated twice (in 1995 and 1996), while the mighty Norwegian Lasse Kjus once. Then Austrian domination began with the victories by Herman "Herminator" Maier (twice) Andreas Schifferer, Hannes Trinkl, Christian Greber and Fritz Strobl.

The American Daron Rahlves interrupted the Austrian series in 2002, a series that continued with the victories by Stephan Eberharter and Hans Grugger. The American Bode Miller - an absolute champion - won the 2005 World Ski Championships DH race and team mate Daron Rahlves the DH Bormio Ski World Cup in December 2005. Micky Walchhofer won twice, followed by Bode Miller in 2007. The first victory for an Italian racer - after Ghedina's 3rd place and Fill's 2nd place - was that of Christof Innerhofer in 2008. The victories by Slovenian Andrea Jerman, Walchhoffer (once again) and Didier Defago (in 2011) followed the victory by Innerhofer. Dominik Paris' reign started in 2012, when he won together with Austrian Hannes Reichelt. 2013 was the year of Svindal's victory. In 2017, after 3 years of Santa Caterina Valfurva Ski World Cup, the absolute reign of Dominik Paris began: he won the last 5 DH races (happy time for Italy in 2018, with Domme first place and Innerhofer second one). These achievements made him earn the honorary citizenship of Bormio. There are also a few great champions who failed to tame Stelvio. Among the best known: Marc Girardelli (5 times World Cup winner and twice DH cup winner), Kristian Ghedina, and Swiss Didier Cuche.