PARIS: "TWO INCREDIBLE DAYS"
These are the words of the protagonists of the Super-G in Bormio.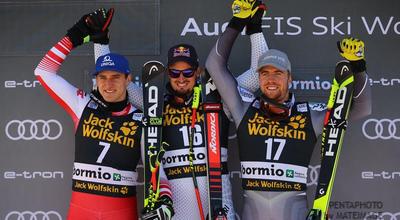 DOMINIK PARIS (Ita)
"What happened in these two days is really incredible and today the Stelvio was even more difficult than yesterday. I'm speechless. It means that everything works well: the shape, the materials, my mind ... We are strong on these difficult slopes, but succeeding in winning twice on a slope like Stelvio seems impossible. The difficulties are many and it's impossible to be perfect. I wasn't perfect, I was lucky The start was not bad, but then I slowed down a bit too much before Carcentina. I didn't feel very fast on this diagonal, but then I pushed it all because I felt I still had energy. When I approached the finish line I heard the roar of the crowd I knew I had done well, but when I saw the green light on the board I almost didn't want to believe it. Maybe I've also found continuity and I have the confidence to always push. I'm sorry for Innerhofer. He is in great shape but bib 1 in Super-G is really not good because you have no points of reference. Inner is always among the best, when he doesn't make mistakes he's always a podium man".
MATTHIAS MAYER (Aut)
"It's terrible to lose for 0,01, congratulations to Paris, he is experiencing an incredible moment. I will get this 0.01 back in Austria. I'm happy with my race, I did my best and attacked everywhere, but I was not perfect, the bumpy slope doesn't allow you to be. However, it's my first podium of the season, a sign that the shape is growing ".
ALEKSANDER KILDE (Nor)
"This podium is really important for me, but today it was impossible to beat Paris and Mayer. These four days were hard and now I have to rest. Today's podium is my third one of the season: it gives me confidence for the races in January and for the World Championships in Are".
CHISTOF INNERHOFER (Ita)
"I'm really sorry because I could do well, even though today it was even more difficult than yesterday. I lost a bit of concentration at the second gate because I did not feel fast and I put my arm on the fourth. However - and not because it happened to me - in the last three years the number 10 of the specialty list who's forced to wear bib 1 has never had a rank in the top 10. Too bad, because I saw that after the first mistake I was faster than Paris and Mayer".
MARCO ODERMATT (Svi)
"A very difficult race even if it is difficult in the middle, with all those vibrations. My race was perfect from start to finish ".