PARIS: "A DREAM VICTORY" INNERHOFER: "A GREAT RACE"
Wonderful feelings. These are the words of the protagonists.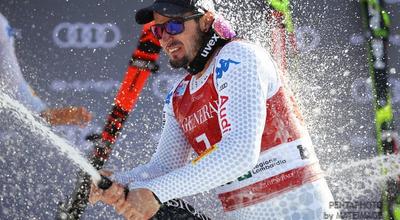 DOMINIK PARIS (Ita)
"A third victory in Bormio? A dream. But it has been very difficult. Before my race I saw Innerhofer's DH on TV: great job, really good, perfect in the upper part. I really had to give it all to do better than him, and maybe something more. On the other hand I always aim at difficult DH races, but then I have to prove I can handle them. I did it today. I had good feelings during the trainings, but I say it again, it was not easy after what Inner did. Where did I win? I think in the final part. In the last part you can only ski with you brain because you can not feel your legs anymore. If I think about it, it's incredible: three victories on this track - like Walchhofer, what a myth. It goes beyond my hopes ".
CHRISTOF INNERHOFER (Ita)
"We really did our best. Maybe I lost because I tried to be too perfect: in the curve under the chairlift before Carcentina I looked for an incredible line, but in doing so I probably slowed down. I won here in Bormio in 2008. I still have those incredible sensations inside of me and I thought I thought I could repeat that – considering my current shape - but Domme was really good, congratulations. Of course, a victory is a victory but I'm happy, I did a great race. When I crossed the line I raised my arms without looking at the scoreboard. I knew I did well. Paris says that in the end you win with your brain, does he? Of course, but his thighs are 10 cm bigger than mine. This track is still special for me: this is where I scored the first World Cup points, here my first victory. I'm skiing really well, maybe this is the best ever. The results are only the consequence of how I ski. "
BEAT FEUZ (SVI)
"I'm happy, it was a very hard and tiring race. Today it was not easy to beat the Italians. The third place is a good one anyway, it's my third DH podium this season. Super-G predictions? I don't know, I don't have the same feelings in Super-G if compared to DH, much depends on the bib number".
VINCENT KRIECHMAYR (Aut)
"I'm disappointed, I skied much better during the trainings but today I made too many mistakes".
MATTHIAS MEYER (Aut)
"Congratulations to the Italians. Stelvio is no longer the name of this track. You should rename it "Paris"
HANNES REICHELT (Aut)
"I made too many mistakes, the only satisfaction is to have arrived safe and sound at the finish line".
The super-G is scheduled for tomorrow, at 11.45 on Raisport, same protagonists as the DH. It will be a great show, once again.