Goggia about Bormio: "Stelvio is scary"
An interview with Sofia Goggia, Olympic DH champion, who speaks about Stelvio.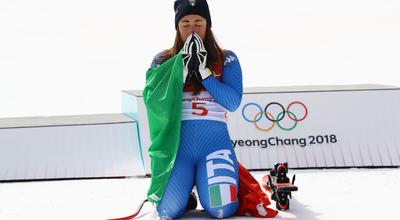 Sofia Goggia chomps at the bit. The fracture of the malleolus that hasn't given her the possibility to compete in the World Cup yet, is now ok and the DH Olympic champion is working hard to come back in January. But on Friday, December 28, she will be in front of the TV because she doesn't want to miss a single second of the Bormio DH. "You really see the best on Stelvio, the best of what DH athletes can technically do," says Sofia.
Have you ever competed on the Stelvio?
"Yes, but in a giant race and on the final part of the piste when I was in my second year as "allieva". It was a long time ago".
As a DH racer, what do you like of this slope?
"It has it all. The DH of Bormio is a really tough one. It's long, complicated, always fast and tiring like no other one".
Would you like to compete here too?
"No. As women, we have our slopes to focus on and the are not simple at all. All the slopes deserve respect, but this one has something more. A DH race on Stelvio must be prepared really well from a physical, technical and mental point of view".
Lindsey Vonn suggested to compete with men. She pitched the idea of Lake Louise and then shyly mentioned Kitzbühel too... "
"I understand Lidsey. It was my model, my point of reference. I even felt embarrassed when I arrived before her. But if we talk of Lake Louise, well that's a "baby" if compared to Stelvio, it's suitable for the first race of the season. Vonn said these things when she was at the height of her career, now I couldn't say what she thinks".
So you focus only on the races ahead…
"I can't wait ... But on December 28 and 29 my day will be spent between training and physiotherapy, so that I can watch the two races of Bormio. There is always something to learn".