Words from the podium and Christof Innerhofer
The exciting Bormio event has come to a successful end.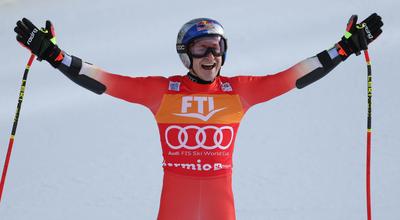 Marco Odermatt - It was a very difficult race, a technical and icy course. I had a great feeling at the start gates and while racing I felt I was always a step ahead and that made it all easier. I had a plan, I just wanted to ski full on especially in the technical parts and it worked. I had fun, it was a challenge but I managed to win it.
Vincent Kriechmayr - A first and a second place is more than I expected here in Bormio. Today it was a bit emotional. Mathias is an amazing guy, a leader for our team. He's helped me and the young guys a lot. It's a loss for our team but I wish him all the best and hope to see him soon.
Loic Meillard - I'm happy with my third podium, I like it when it's hard snow and the jumps so I'm actually happy with how I skied. Stelvio is a tough slope, it's bumpy and icy. I didn't have many trainings if compared to other guys, I tried to push and move forward and the feeling with the materials was good today.
Christof Innerhofer - It was a really tough race, perhaps the most difficult ever. I changed my set up and ski bindings and that gave me a lot of confidence, but I'm no longer used to ski reactions with that set up. Too bad I made the mistake in the end, it costed precious time. I did better than the past days in Super-G.